Household DIY Hand Saw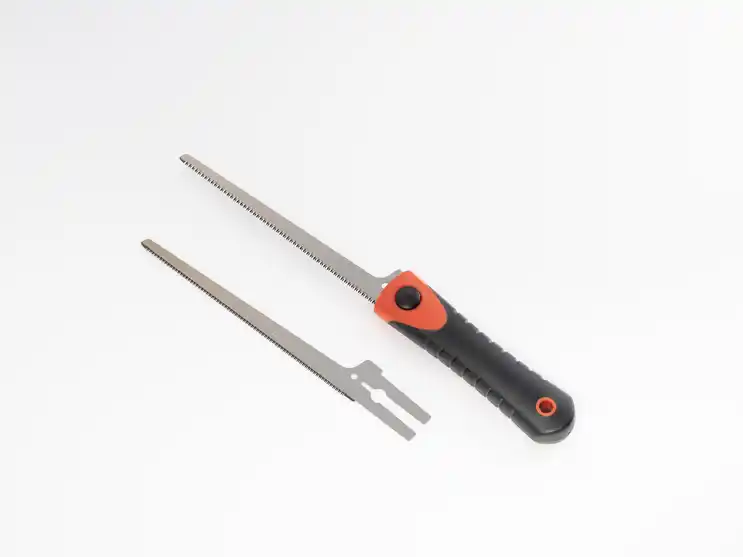 Model:MLF-170
Handle Material: ABS & TPR

Product Applications: Garden Pruning / Potted Landscaping / Household DIY
Add to inquiry
Description
The pruning saw teeth are triple side gear grinding. High carbon steel blade is extremely flexible to permit access to tight places when trimming potted plants. The narrow blade can largely reduce frictions amid strokes. A toolless handle designed for changing the saw blade, it suitable for gardeners and landscapers.
Elevate Your DIY Projects with Our Household DIY Hand Saw
Transform your DIY experience with CHAN LONG's Household DIY Hand Saw. Designed and crafted for precision, our hand saw is the perfect companion for your household projects. Whether you're a seasoned DIY enthusiast or just starting, our saw ensures efficiency and accuracy in every cut. Upgrade your toolkit with CHAN LONG's commitment to quality.
Precision and Comfort Combined in Our Household DIY Hand Saw
Experience the perfect blend of precision and comfort with CHAN LONG's Household DIY Hand Saw. Our meticulously designed saw offers not only accuracy in every cut but also ergonomic features for a comfortable grip. Tackle various materials with ease, making your DIY tasks enjoyable and efficient. Trust CHAN LONG for quality that goes beyond expectations.
Tailored Solutions for Your DIY Needs
At CHAN LONG, we go beyond providing exceptional Household DIY Hand Saws. Explore our commitment to customization through our OEM and ODM solutions. Tailored to meet your unique requirements, our team collaborates with you to create hand saws that align with your specific DIY needs. Choose CHAN LONG for precision, comfort, and personalized solutions in every cut.
Specification
【MLF-170】
Blade Length: 170mm
Full Length: 325mm
Teeth Per Inch: 17T
Customization
♦ Saw Teeth
♦ Handle Color