Drywall Keyhole Saw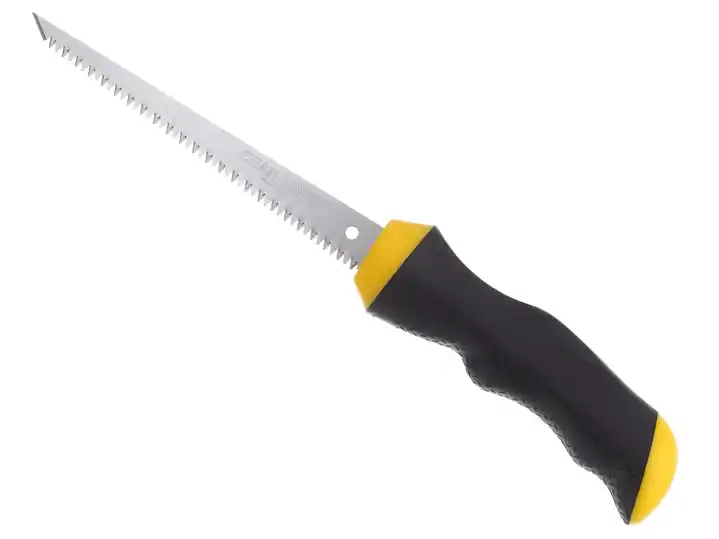 Model:Drywall Saw
Handle Material: ABS & TPR

Product Applications: Drywall / Plywood / Wallboard / Cement Board / Thin Paneling
Add to inquiry
Description
Experience Precision with Our Custom Keyhole Saws
Unleashing Efficiency and Accuracy:
Welcome to CHAN LONG ENTERPRISE, a renowned keyhole saw manufacturer providing exceptional tools to global buyers. Our range of custom keyhole saws is designed with precision and manufactured to the highest standards, ensuring outstanding quality and performance. With our comprehensive OEM and ODM solutions, we cater to your specific requirements, including a blade length of 160mm, full length of 305mm, 9 teeth per inch, and the option to customize the handle color.
Tailored Solutions for Your Unique Needs
Crafted to Perfection:
At CHAN LONG ENTERPRISE, we understand that customization is crucial. Our keyhole saws are meticulously crafted to meet your precise specifications. With a blade length of 160mm, full length of 305mm, and a tooth count of 9T per inch, our saws are optimized for efficiency and accuracy. Additionally, you have the freedom to choose the handle color, allowing you to align the tools with your brand identity or specific preferences. Experience unparalleled precision and quality with our tailor-made keyhole saws.
Uncompromising Quality and Reliability
Guaranteed Performance:
We take pride in delivering keyhole saws of uncompromising quality and reliability. Our manufacturing process involves using premium materials and advanced techniques to ensure durability and exceptional performance. Each saw undergoes rigorous quality control measures to meet the highest industry standards. With CHAN LONG ENTERPRISE, you can trust in the reliability of our products, empowering you to surpass customer expectations and achieve success in your business.

Discover the exceptional quality and customization options of our keyhole saws. Contact CHAN LONG ENTERPRISE today to explore our range of premium tools and experience our tailored OEM and ODM solutions. Elevate your cutting tasks with precision and efficiency using our custom keyhole saws, designed to meet your specific needs.
Specification
【DRYWALL SAW】
Blade Length: 160mm
Full Length: 305mm
Teeth Per Inch: 9T
Customization